FOR THE SERIOUS COMANCHE OWNER
If You WANT
Performance PLUS for your Comanche,
Then you want the..
J.A.S. High Performance Two Blade Propeller
JOHNSTON AIRCRAFT SERVICE, INC.
and Hartzell Propeller
worked together to develop a
NEW HIGHER PERFORMANCE TWO BLADE PROPELLER
for the 250 and 260 Comanche !!!
with
Modern Aerodynamic Blade Design
Noticeable Decrease in Take-off Distance
150-200ft/min. Increase in Rate of Climb
2-4 M.P.H. Increase in Cruise Speed
3-5 M.P.H. Increase in Top Speed,
and it eliminates A.D. 97-18-02.
For the 260 Comanche Owner, this is a simple bolt on change using your existing spinner with our Sleek New Aluminum Polished Spinner as an option. The 250 Comanche will require an engine counterweight change, prop spinner change, and a governor change in addition to the propeller. Johnston Aircraft Service, Inc. has complete kits ready to ship. We can also perform this conversion in our shop.
***PLACE YOUR ORDER NOW***

OR
THE
JAS HIGH PERFORMANCE 3 BLADE SCIMITAR PROPELLER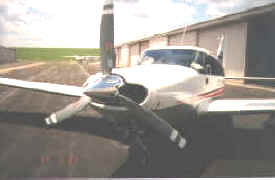 NOW, we have a SEXY 3 blade Hartzell Scimitar High Performance Propeller for the
250 and 260 Comanche. Due to its high-tech design, this propeller is :
Quieter
Smoother
Faster Acceleration on the Runway ( shortens your T.O. distance )
Better Climb Rate
Slight Speed Gain
Good Looking
A Solution to your Older HARTZELL 250 PROP A.D. Problem !!!
AVAILABLE NOW as a kit, and we can install it!!!
***CONTACT US TO PLACE YOUR ORDER TODAY***