THRUSH MAINTENANCE
Johnston Aircraft Service (JAS) supports the Thrush. As such, we can provide just about any maintenance your Thrush could possibly need, whether for Turbine or Piston. Some of the maintenance items we can perform are:
100 hour and annual inspections.
Turbine and piston engine maintenance, including PT6 Hot Section Inspections.
Airframe repairs including fuselage, landing gear, control surfaces, wings, and empennage.
We can install factory wing spar caps and the Century 60,000 hour wing spar caps.
Complete aircraft accident repair.
Air conditioning installation.
GPS installation.
MVP50T Glass Panel Installation.


FUSELAGE REPAIRS IN OUR THRUSH FUSELAGE JIG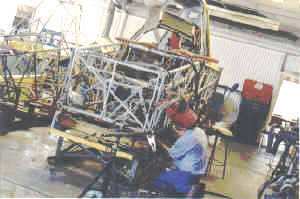 WING REPAIRS USING OUR WING FIXTURES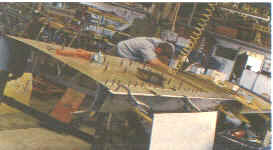 LANDING GEAR REPAIRS IN OUR LANDING GEAR FIXTURES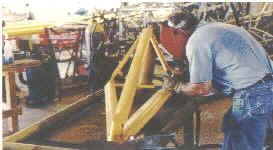 EMPENNAGE RECOVERING USING THE POLY-FIBER PROCESS
Horizontal Stabilizer
Vertical Stabilizer
Rudder
Elevators
MODIFICATIONS
Wing Extensions
Fuel Tank Size Increase
Wing Root Fairings
Aileron Servos
Winglets
Vortex Generators
Wing Angle of Incidence Optimization
Cold Air Intake (600 Thrush)
Serv Aero turtle deck installations
Cascade PT6A-41/42 (850 SHP to 106 degrees) conversion for Thrush and Air Tractor
Cascade Ram Air Pressure Cowls for Thrush and Air Tractor
High Performance Propellers
Propeller dynamic balance
Weight and balance
For any other maintenance/modification/repair needs, please contact us for information.

BRAVE MAINTENANCE
Johnston Aircraft Service (JAS) is the home of the 400 Super Brave. We have been associated with the Brave since its beginning in 1973. We are completely familiar with the aircraft in both the factory original and modified forms. We can help you with just about any repair, maintenance or modification that you can think of. Some of the support items we perform are:
100 hour and annual inspection
Propeller dynamic balancing
Weight and balance
Engine Overhaul and Maintenance
Airframe repairs
Fuselage repairs in our Brave fuselage jig
Wing repair, rebuild and modification including spar cap kit installation
Empennage and control surfaces
Modifications
550 SHP Turbine conversion
400 horsepower conversion
High performance 375/400 propeller
High lift wing leading edges
Vortex generators
Ag Tips
Air conditioning installation(turbine aircraft only)
Hopper overflow vent extension
One piece reinforced aluminum gate
Left and right entry steps
A.D. note and Service Bulletin compliance
83-20-03 (4100 HR wing spar cap & spar carry thru member fatigue life)
Fuselage forward reinforcement kit installation
We can also comply with any other A.D. note or Service Bulletin
For any other maintenance needs, please contact us for information.